Testimonials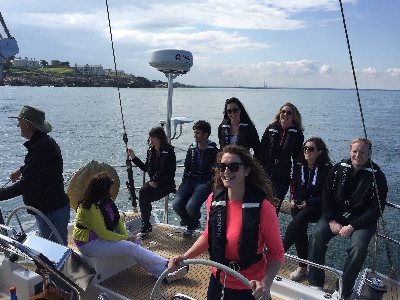 "Thanks to all the team at Go Sailing, especially Kevin and Ronan, for a lovely afternoon out on the water. We had a fantastic day and we thoroughly enjoyed taking part in sailing "Explorer", especially our colleagues from London and the US! We would highly recommend a day out with Go Sailing as a team building activity with colleagues or as a leisure activity with friends." – Facebook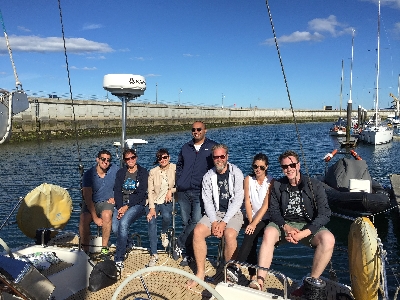 "And thanks again for the day - the team had an amazing time and that's thanks to Kevin and Ronan. Great team!" – Linkedin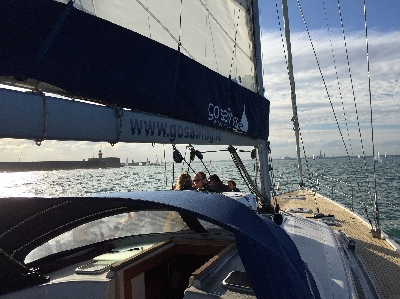 "Apologies that it has taken me so long to get in touch. Thanks a million for looking after Team MSF so well. We had an AMAZING time with you guys last Friday." – Doctors Without Borders
"Well Kevin what can I say we all had a fantastic day on Wednesday… thank you so much for your patients with my emails and for my emergency boat that I did not need in the end. Everyone had a great time it was something different for us. Thank you and Ronan on our boat, for your expertise, gossip and fun out on the sea we loved every minute of it. Unfortunately we came home with the Boss but next time I'll put him on the small boat ha hahahah. It reminded me how much I love being out on the sea, my cousin has promised me I can head out with him when he is missing a crew member. All the best for you and the team I will be recommending you to all my friends as will my colleagues." – Lapithus Management
"Just a note to say a big thank you for the sailing trip on Sunday morning. We really enjoyed it and felt like we were on holidays. A really enjoyable morning." Jenny & Robbie
"The experience provided by Go Sailing was the best day of my Ireland vacation! As a single woman, I was accommodated on a special sail to Bray where there was an European aerobatic airshow. The boat was beautiful and lunch, desert,refreshments with fun and interesting narration from our skipper made it unforgettable! I cant thank Susan, Kevin enough for a day that really rejuvenated me!" – Jill
"I organized an evening sail with Go Sailing for a group from Emulex Corporation. The group were all non-sailors. All thoroughly enjoyed the evening. From the safety team briefing to the return to dock side the Go Sailing team (Aaron O'Grady and Breiffni Kennedy) made all feel comfortable and safe with a very professional but relaxed attitude.
As an experienced sailor I was very impressed with the quality of the boat and the efforts the team made to ensure the whole experience was rewarding. I have subsequently had emails from every member of the team saying how much they enjoyed it.
Sample comments include:
"Trip was awesome!!! Sign me up"
"Great evening. Without doubt the best company outing I have been on!"
"Carlsberg don't do job nights out but if they did!!!!!!!!!!!"
We definitely will be back again.'
Adam Winkelmann - VP Emulex Corporation
NYC Member
Chairman of the Volvo Regatta
Sailor since the age of 5
"We used gosailing.ie for a team building exercise during the summer of 2010. The crew were extremely professional and the boat/equipment is state of the art. They have an excellent knowledge of the local area which made the trip very interesting. The food was of a high standard and service from the yacht club was very friendly. We would highly recommend gosailing.ie for both corporate events/team building and family outings." – O2
"Had a fantastic time when the work crew went sailing. The Go Sailing guys were great craic, the weather was fantastic and I got to sail the yacht for most of the trip - bonus! Would definitely recommend it." – Gavin Ross
"Hey, thanks for a really amazing day on Saturday. We all had a blast! Great boat, great sailing and great crew!!! Hope to go sailing again with you guys." – Evelyn
"From start to finish, everything was perfect - the boat's beautiful and well equipped; the GoSailing team a pleasure to deal with; then following a thrilling sail between the islands and into Killiney bay, we topped it off with a fantastic BBQ back at the yacht club! Well done and I wish GoSailing the very best!
Cheers," – Alchemy Software
"My husband is celebrating his 70th birthday this September so I decided to surprise him by having our children, their spouses and their children spend a week touring Ireland with him (he was born in Monaghan). We worked through Claire Courtney of Ovation Tours (who we also feel did an unbelievable job) and she hooked us up with your company for a sail that we will never forget. Thanks to Bref and Aaron we had an awesome experience. They even managed to locate three dolphins that entertained us for a good hour jumping all around our boat.It is safe to say the famous "Irish Wit" is well and flourishing at Go Sailing with those two lads. When we ask the children what was their favorite part of the week's trip it was hands down our trip sailing with your company that got the most excited response (and I venture the adults would probably be in agreement). Thank you again, Bref and Aaron , you are simply the BEST!" – Visitors from Chicago